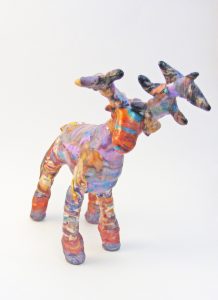 As featured on  Great Falls Culture.com:
Recent artworks featuring clay critters, winter scenes and polymer clay sculpting demonstrations are all part of Deeling Gregory's reception at the First Friday Artwalk at Amazing Gallery in downtown Great Falls, January 7th from 5-9 pm.
It's all part of the more than 30 art pieces by Gregory in this major show in the historic downtown business district.
Art by Deeling 2011 Calendars in both poster and booklet style (featuring a dozen images, many from the exhibit)are still available in very limited editions at Amazing Toys.