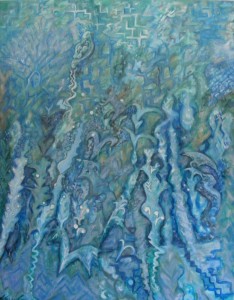 The Source–Giant Springs" is a large-scale oil painting on canvas. It measures 60″ x 48." I build all my stretcher bars–the wooden frame the canvas is stretched over–myself.  No power tools are used. It's all with hammer and hand saw and staple gun. If you're using power tools–air hammer, power saw, power staple gun–how nice for you!
A variety of life forms, plant and animal, including a magical bird, a squirrel and a bighorn sheep are nurtured by the spring. Bubbling thousands of feet to the surface, the Giant Spring is the source of all life's delights.
———————–
"The Source" is a large-scale oil painting on canvas,was completed in 2009. The dimensions are 60″ x 48." Prints are occasionally available on my
Etsy
site, the original has an asking price of $12,500.
———————–
The copyright and any intellectual property rights for these images are retained by Deeling C. Gregory. The artist retains all rights implicit in copyright laws and other rights to the images not enumerated here for worldwide use. All rights to reproduce these images are retained by the artist. By accessing these images, you agree to use these images for personal use only. They are not to be reproduced, copied or altered in any way.
———————–