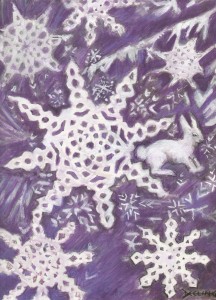 From a series of holiday card designs.
———————–
Crouching rabbit, hidden squirrel. Large white snowflakes swirl in a purple fantasy land with a few cute creatures to keep them company.
———————–
The copyright and any intellectual property rights for these images are retained by Deeling C. Gregory. The artist retains all rights implicit in copyright laws and other rights to the images not enumerated here for worldwide use. All rights to reproduce these images are retained by the artist. By accessing these images, you agree to use these images for personal use only. They are not to be reproduced, copied or altered in any way.
———————–